Fencing Contractors in Chennai, Fencing Installation in Chennai, Fencing Materials in Chennai, Fencing Maintenance in Chennai, Fencing Contractors in Madurai, Fencing Contractors in Trichy, Fencing Contractors in Coimbatore, Fencing Contractors in Tirunelveli, Fencing Contractors in Salem, Fencing Contractors in Erode, Fencing Contractors in Karur, Fencing Contractors in Dindigul, Fencing Contractors in Kodaikanal, Fencing Contractors in Palani, Fencing Contractors in Pollachi, Fencing Contractors in Tuticorin, Fencing Contractors in Chengalpattu, Fencing Contractors in Vellore, Fencing Contractors in Tiruvannamalai, Fencing Contractors in Viluppuram, Fencing Contractors in Tirupur, Fencing Contractors in Andhra Pradesh, Fencing Contractors in Kerala, Fencing Contractors in Karnataka
Professional Fencing

Looking for a professional Fencing Installation Company, then you are on the right place.
At Periyasamy Traders we have well trained professional team to fence your Property

Timely Installation

At Periyasamy Traders. We deliver! What we committed
Inhand Experience in Fencing Industry we assure you a time saving and a cost effective Protection for your valuable Properties.

Quality Assurance

When it comes to Fencing for Protection, Quality is the main asperance. Thus Periyasamy Traders Fencing Ensures you the Industries Best Quality Fencing products that protects your property.
There are many practical benefits of placing a fencing around your home. Security is one of the main reasons why people install fences. "Fencing Contractors" A fence comes especially handy if you reside in an area that has proximity to a wildlife reserve, as it will prevent wild or stray animals from entering your property and causing harm to you and your family. Fencing is also important from the privacy point of view if you are worried about neighbours to intrude or spying on you. Further, if you are negligent, encroachment may also happen. If you have fencing around, it will help you to define your property lines perfectly and legally.
Periyasamy Traders Fencing Installation
Welcome to the Periyasamy Traders. We are one of the renowned "Fencing Contractors & Installation" Concertina Coils and Wire Manufacturers, which is located in Tamilnadu India. We have a range of tape ranging from Concertina Coils to Razor Blade Wires & PVC Chain Link Wires etc., is available with us and all they are generally noted for their durability and strength. Additionally, we are renowned Fencing Company specialised in Fencing Installation & Maintenance. Different kinds of tape counting from Barbed Tape, Razor Blade Wire etc., are available with us. The products streamlined by us are also specially designed according to the clients' need.
THE NEXT BEST THING IN
FENCING INDUSTRY
Periyasamy Traders are leading suppliers of Fencing Products. Trusted for over 15 years, we specialise in high-quality, low-maintenance fencing products – at affordable prices. Using only the highest-grade materials and most experienced craftsmen, our core focus is to deliver you a faultless product – which meets every one of your expectations.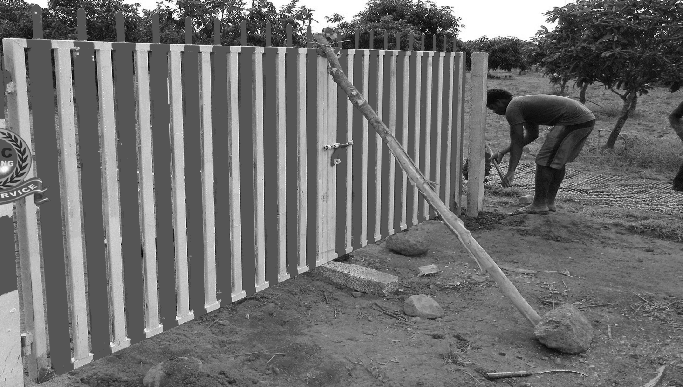 In
quality assurance a constant effort

is made to enhance the quality practices in the organization.
Whether you are seeking a full design, manufacture and installation service, or are just looking for DIY supplies, our friendly team of experts are here to assist you.
testimonials

Antony
Business Man
I recently had a fencing installation done by the Periyasamy Traders Fencing Installations and I am so pleased with the results! The team was extremely professional and knowledgeable. They arrived on time and gave great advice throughout the entire process

Mahalakshmi
Housewife
Recently we done Fencing for our Land. Periyasamy Traders The material quality was top notch and the installation was done with great attention to detail. I am so impressed with the finished product! The fencing looks great and I can tell it will last for years.

Mariappan
Agriculture
I am beyond satisfied with the work that was done and highly recommend Fencing Installations to anyone looking for quality fencing installations. They are the best in the business and I won't hesitate to use them again for any future fencing needs!

Karthikeyan
Software Engineer
I recently had the pleasure of working with Periyasamy Traders Fencing Company on a project for my backyard. From the very beginning, they were professional and courteous. They walked me through the entire process, from materials and design to installation and clean-up.

Victor Elango
Manager
Every member of the Periyasamy Traders Fencing team was knowledgeable and friendly. The installation was quick and efficient. The finished product looks amazing and I couldn't be happier with the results. From the very beginning, they were professional and courteous.

Nagarajan
Land Owner
I would highly recommend Periyasamy Traders Fencing Company to anyone looking for high-quality, professional fencing services. They are truly a pleasure to work with and I am confident that I will be using them for all of my future fencing needs.